The Old Silk Route or Silk Road which passes through East Sikkim is a part of the ancient network of trade routes which connected China to India. This route passed through Lhasa and Nathu La and Jelep La Pass and finally reached the port of Tamralipta (present Tamluk in West Bengal) from where it took to the sea and reached far east. This Ancient Silk Route is expected to have been discovered by traders as early as First Century AD.
Pedong
Pedong lies 20 km east of Kalimpong on the way to Lava at an altitude of 4,071 feet.One of the main highlight of the town is the Cross Hill, placed by priest Fr. Augustine Desgodins in 1882 AD on his way to Tibet.The Cross Hill is located at such a point wherein the view of the facing mountains is magnificent. From here one can get a glimpse of Tibet and the People's Republic of Chinese border. It is a perfect sunset point.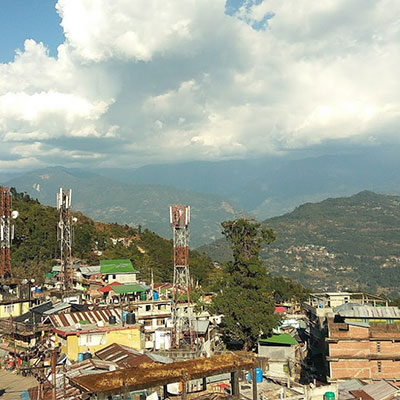 Sillery gaon
A sleepy village under kalimpong district in West Bengal situated at 6000 ft,Sillery gaon offers the majestic view of Mt. Kanchenjunga and other peaks. People here have agriculture as their main profession.sillery gaon has many places of attraction such as damsang fort,which was built in 1690 by lepchas.Another interesting place nearby is silent valley which is a vast tract of green pastures surrounded by tall pine trees.As per the old local residents it was originally a lake long before.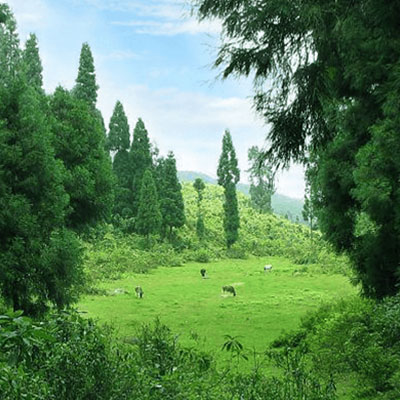 Icchey gaon
Ichche Gaon is surrounded by many trekking courses leading towards viewpoint like Jalsa. Another attraction here is the Sangchen Dorjee Monastery built about 300 years ago, this Monastery provides an insight into the history and culture of Pedong and the surroundings.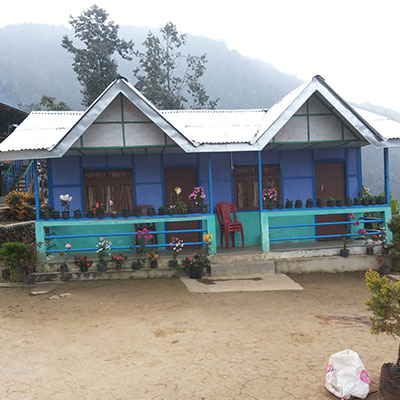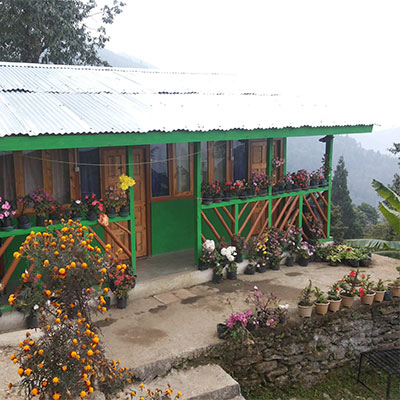 Reshikhola
About 20 KMs south of Rongli, at a meagre altitude of around 2000ft. Technically just on the edge of West Bengal, where the river Reshi marks the border with Sikkim, surrounded by evergreen forests and a charming khola (Small rivulet in Nepali). A host of activities like, bonfire at the river side,taking a dip in the cold gush and walks inside the surrounding forests can be done while at Reshikhola.
Aritrar, Lampokhari and Mankhim
Aritrar, at around 4915 ft. and 9 KMs from Rongli is another popular starting or ending point travelers opt for. This infact is a slight detour from the actual old silk route. What makes it worth a visit is an Artificial Lake with boating facilities .The lake is called Lampokhari (Pokhari in Nepali means small lake or pond). Earlier a natural, later artificially reconstructed to facilitate paddle-boating facility.
Situated atop a hill in Dalapchand village, Mankhim is actually a viewpoint from where one can enjoy a stunning view of the snow covered peaks of Kanchenjungha and her sisters. ... Mankhim is alaso known for the temple of Rai, which has got a Nepalese connection.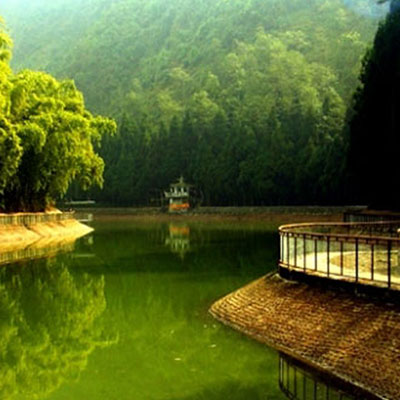 Rongli Bazaar
This place is also important keeping in view that the mandatory ILP (Inner Line Permit) must be obtained from the Rongli police station here, to travel up on the old silk route. Many nature trails lead out of Rongli, through forest paths and by the serenely flowing river Rangpo. Rongli being a sub-divisional headquarter, boasts of facilities like police station, ATMs, provision stores, liquor shops, medical facilities, etc. North of here these facilities will gradually become hard to find.
(Notice:To obtain permit, adhaar card is not valid,only voter card,driving license,passport and for children birth certificate is allowed)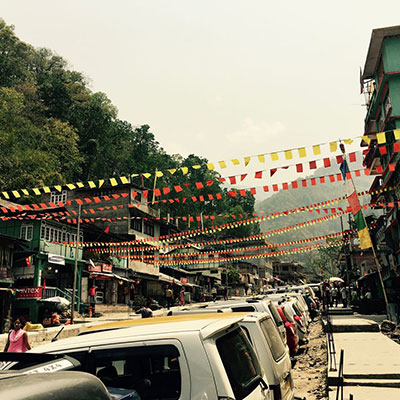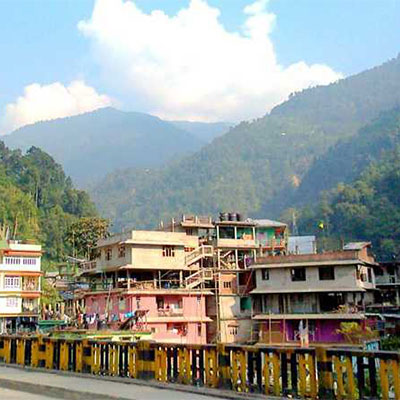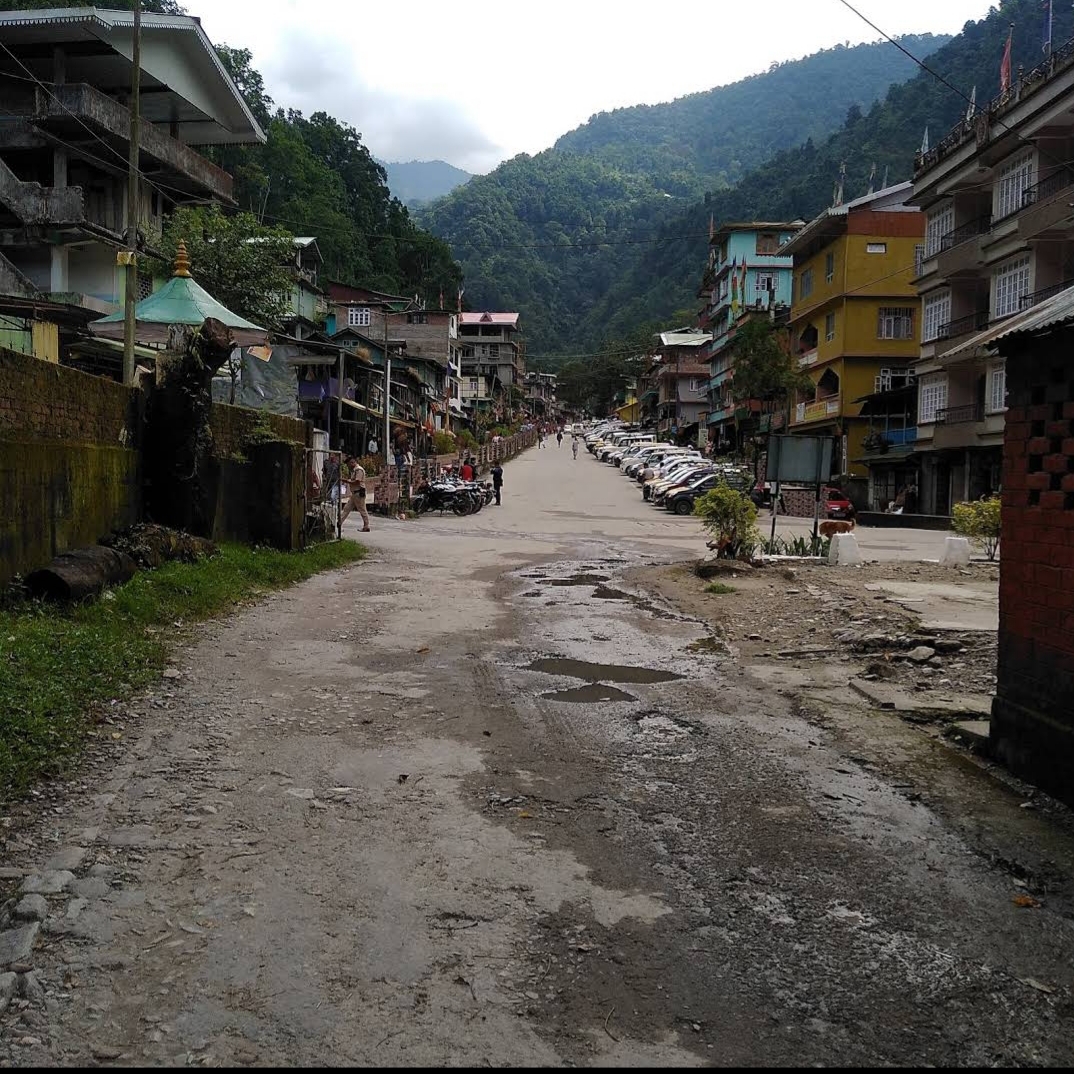 Lingtam
Shortly after getting started from Rongli, Lingtam is where the permits will be checked. The names of the travelers are registered to keep track until one exits the region either from the Gangtok side or back here again. There is a small park by the side of the road beside the river with big rocks scattered around. Nice place for a few clicks.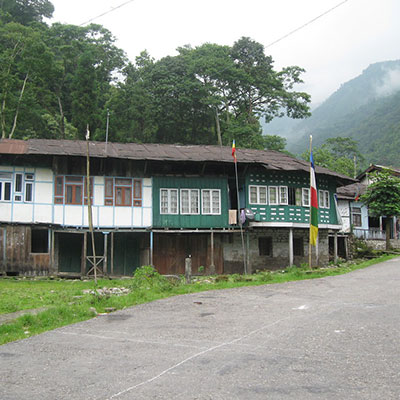 Agamlok
On the onset of old silk route, this tiny Sherpa village, 10km from lingtam village is a real treasure for travellers. Mesmerising views of Singalila range can be seen from here.The heartwarming hospitality of the people here towards its visitors is amazing.
Nimachen
The forests around Nimachen support a wide variety of bird population and bird watchers would love to spend a few days here. Nimachen lies on a height of 7500 feet and has soothing climate all year round, making it a suitable place to visit. People here are very humble and respectfull and care a lot for the nature.
People of various community live here together with harmony and respect for each other.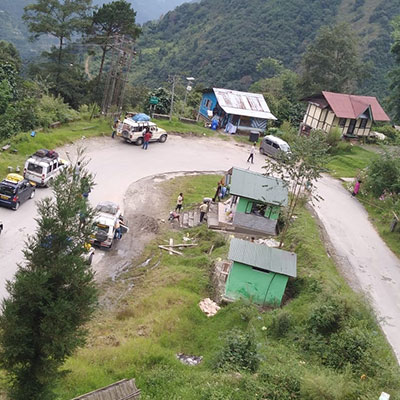 Phadamchen
Around 23KMs up from Rongli at around 8000 ft., Padamchen is all about greenery and solitude. The place offers sweeping views of the adjoining valleys with Himalayan evergreen forests, a pleasant climate all year, untouched walking trails inside the adjoining forests and if you are lucky enough, sightings of rare species of birds and animals such as the Himalayan Black Bear, Red Panda and Steppe Eagles
You can get 360 view of pangolakha wildlife sanctuary from lamakhang home stay.
Phadamchen is a peaceful hamlet which has an old local monastery and this place is widely being improved through various homestays and resorts sprouting up.The facilities and services provided here is much better and standardised as compared to upper regions due to its geographical advantage and lesser cold climate.Before heading upwards towards higher altitude a stay at Phadamchen is must to acclatimise.
Zuluk or Dzuluk
Zuluk is situated at 9300 ft. about 10 KMs up from Phadamchen through thrilling hairpin bends, was even in a recent point of reality, a roadside Himalayan 'bustee' of about 100 houses. There is an Indian Army base at Dzuluk, which has been used as a transit camp for the army movement to the Indo-Chinese border nearby.The winter may see snowfall in the area of about 3–5 feet (0.91–1.52 m) of snow.
Lungthung,Thambi Viewpoint
During winters, the entire village is buried under white snow. It is famous as a sunrise point. One can see a most amazing sunrise over the peaks of Kanchenjunga from Lungthung. The famous Thambi View Point lies close by. It offers the best view of the eastern Himalayas. The surrounding forests are home to a number of rare birds such as Pheasants and even the Red Panda can be found here. A host of wild flowers, rhododendrons, and ferns bloom during spring time. 12000ft it is particularly famous for the sunrise over the Kanchenjunga, besides also offering a majestic view of the loops. The loops look like a serpent laying over a mountain ridge. Carrying a pair of binoculars is advisable.
Magical views of millions of stars at night will leave you spellbound.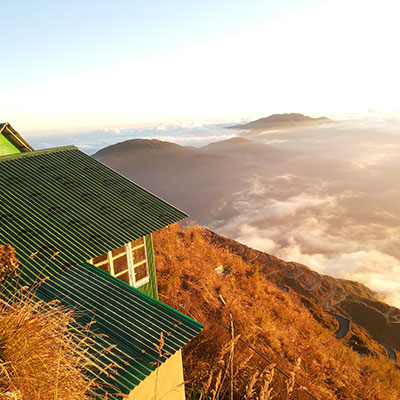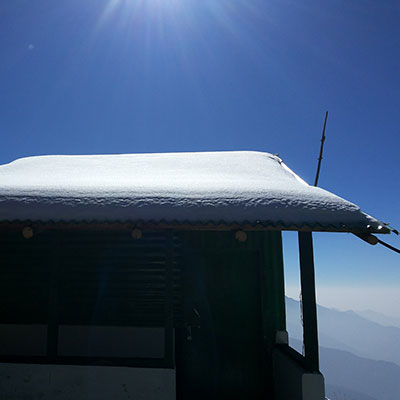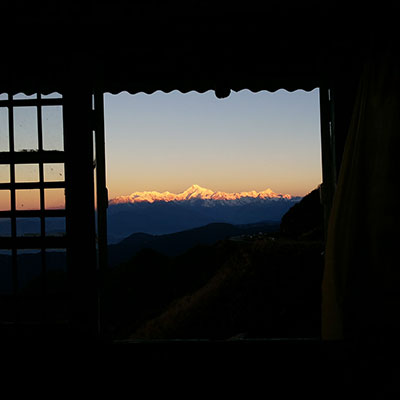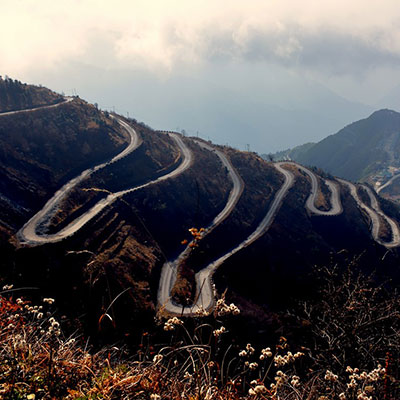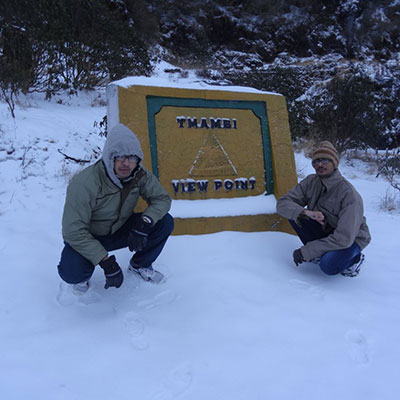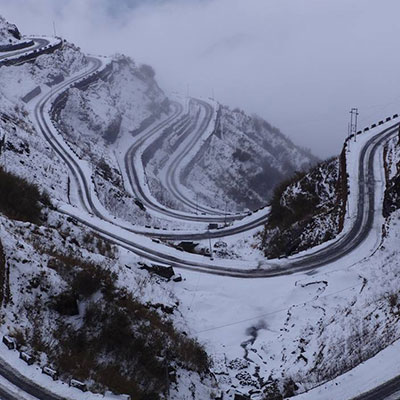 Nathang Valley
Probably the 'apple of the eye' of the entire Silk Route, Nathang Valley at 13500 ft. is magnificent. Originally inhabited by Tibetan yak herders, Nathang Valley in modern times is gaining popularity due to its pristine landscapes. A flat grassy valley interspersed by winding streams of glacial melt surrounded by daunting barren mountains. It witnesses a riot of colors during the blooming season of Rhododendrons between June and September. Unlike any other place in the silk route, this small village of some 50 modest wooden houses are inhabited by people of Tibetan origin.
Nathang has a British war memorial in honour of British soldiers, who died in the battle between tibetans and British in 1888.
Eagle's Nest Bunker.
This place is elusive. It is an old army bunker atop a hill. A small uphill tread from the road would take you up there. The walls of the bunker have bullet marks from the Sino-Indian war in the early sixties. The location is perfectly strategic giving a 360-degree unhindered view of the surrounding
Elephant lake, kupup
On a clear day, if a lake manifests emerald blue hues and appears in shape like an elephant, it will be Kupup Lake. At the centerstage of a glorious adjoining valley, a small village Kupup with a sparse population and a police check post is situated on the banks of it. Bitan Cho, as it is locally called is also referred to as Elephant Lake due to its resemblance of shape.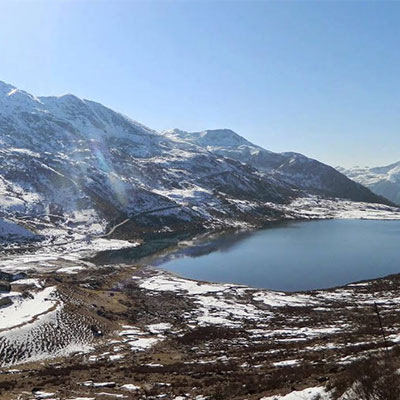 Memencho Lake
Memencho Lake is another gorgeous high altitude lake quite near to Kupup. Unlike Bitan Cho, this lake is surrounded by straight standing conifers on all sides which makes it all the more alluring to the eye especially after a fresh snowfall when the trees wear a layer of white. This lake cannot be accessed directly by a car. A downward trek of 4 KMs through a winding road will have to be made to reach its shores. There is a beautiful view point set up at the banks.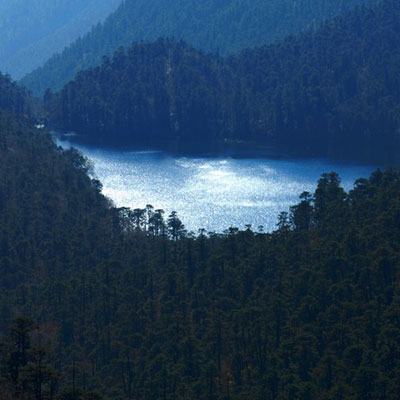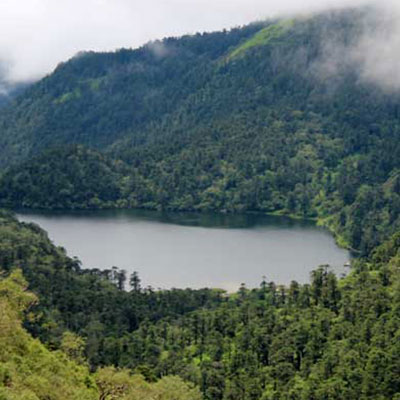 Tukla Valley
An extension of the lower Tibetan Plateau, at 13000 ft., vast and flat in expanse, with the Trans-Himalayan massifs smiling over it, Tukla Valley has potential to become what Yumthang could manage. Only a small part of the valley is accessible to civilians towards its eastern end. The valley is enveloped in red in the blooming season with rare orchids and rhododendrons.
The Yak Golf Course, Tukla Valley
Another fascinating landmark of Tukla Valley is an Eighteen-hole golf course which has its place in the Guinness book of world records for being the highest in the world at 13025 ft. . The course spreads across natural streams. Tournaments like the Kalimpong Cup has been held here.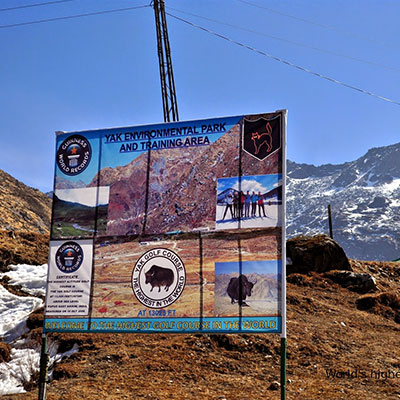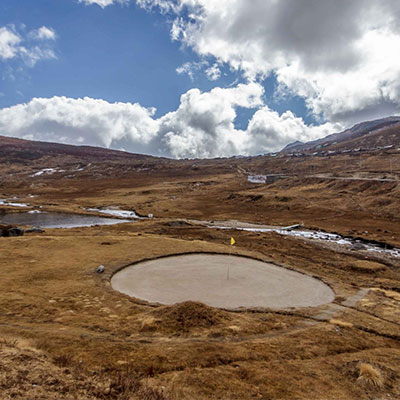 Old Baba Mandir or Baba's Bunker.
The bunker, in which baba resided falls on the old silk route. It is also maintained with pure belief by the jawans of whichever regiment serves here. One can go inside the bunker and see baba's bed, shoes, other articles etc.The trail for Memencho Lake goes down from opposite the road from here.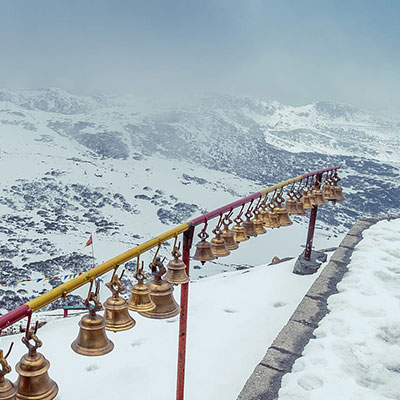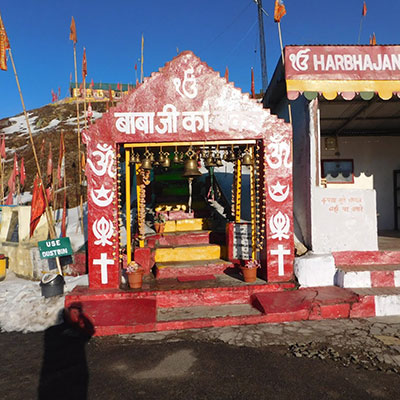 Jelep La pass
Jelep-la, a Tibetan name, means "The lovely level pass, so called because it is the easiest and most level of all the passes between Tibet and Sikkim.Jelep La elevation 4,267 m or 13,999 ft, is a high mountain pass between East Sikkim District, Sikkim, India and Tibet Autonomous Region, China. One would require a special permit to visit this pass.
(Tourist can even get a sight seen of Nathula pass which is 4km North,but with a special permit from Gangtok. )
Conclusion
If you are one of those travelers who could do without the luxuries of hotels for places that are worth it, if silence and tranquility calls out to your core, if nothing else matters over the rawness of nature to you, or if there is that bone in your body which craves for a little adventure or the thrill of reliving a definitive part of history, the Old Silk Route is your kind of place. Come here for the unforgettable views, come for the altitude and its thin air. Come here for the birds or come for the soft-spoken red-cheeked people with a genuine smile pasted to their faces, come for the greenery, come for the winding roads, come for the pristine lakes, come for the flowers that grow above the tree-line, but do come for sure.